How to Cut Down on Pool Maintenance Costs This Summer

Enjoy your pool without breaking the bank.
Pool maintenance doesn't have to be an expensive annual chore. Rather than spending up to $700 on pool maintenance, you can cut costs by doing a lot of the work yourself. You don't want the pool to fall into such poor shape that you have to spend thousands of dollars on repairs. Here are some steps to keep pool maintenance costs down to nearly nonexistent this summer:
#1 Use your pool cover.
Pool covers significantly reduce energy costs over time because they slow how much water evaporates. With a pool cover, your pool heater doesn't have to work overtime to keep the water cool. And it prevents debris build-up on windy days too, so you don't have to clean the pool as often.
#2 Run your filter at night.
Running the pool filter at night helps to cut down on energy costs while still keeping your pool clean. Some people opt to run their pool filter 24 hours a day, but this is a waste of energy and over-cleans the pool, which can cause more problems. See if there's an optimum time to run the pool filter at night and save on your electricity bill.
#3 Clean the pool filter.
Sweet and simple: cleaning your pool filter keeps your swimming pool clear and prevents you from spending more money on other, more costly pool repairs. So just do it.
#4 Invest in an energy-efficient pool pump.
If you have a normal pool pump, it only pumps at one speed — and it wastes energy on filtration, among other tasks. If you invest in an energy-efficient, variable-speed pump, you could save more than a thousand dollars over the life of the pump. You may also qualify for an energy rebate.
#5 Keep the temperature low.
You pay more money for every degree you raise the temperature in the pool. Consider keeping the water as cool as possible while remaining comfortable. You should also turn the heater off in the off season, when you're not using the pool.
#6 Maintain the pH balance.
You must pay attention to the chemical balance of the water — not only to keep the water safe, but to keep your costs down as well. If the alkalinity of the water is thrown off for any reason, you're usually better off getting a swimming pool professional involved. Pool chemicals are expensive — and if you don't get the measurements right, you're throwing money away as you pour the chemicals into the water.
#7 Balance stabilizer levels.
While all pool owners are aware of how important it is to maintain chlorine levels, not all may realize how stabilizer (cyanuric acid) plays into the process. Stabilizer aids the chlorine in its effectiveness. Too much or too little stabilizer will result in chlorine losing its effectiveness.  Pool owners need to check their stabilizer levels and decrease or increase the amount of chlorine needed in the water to keep the pool safe.
Additional Pool Maintenance Costs:
These are quick and efficient steps to keeping your pool in shape this summer. However, there are some costs you need to keep in mind for the future too:
Closing the pool in the fall: $75 – $200
Running an automatic pool cleaner: $700 – $2,000
Vacuuming the pool: $50 – $100
Using chemicals: $20 – $100/month
If this seems like too much work for you, you can hire a swimming pool maintenance service. It will cost more, but they can do a lot of the work as part of a package, which could cost less in the long-term. Packages generally include:
Brushing the pool
Skimming debris
Adjusting chemical levels
Cleaning the pool filter
Vacuuming
Source: Andrea Davis, HomeAdvisor,  LINDSAY LISTANSKI
Posted on June 4, 2017 at 11:32 pm
Elizabeth Corvello
Category:

get real (estate), lifestyle
Tagged

benicia, buyer, cover, davis, dixon, energy efficient, expenses, fairfield, heat, home, home improvement, investment, maintenance, napa, new home, pool, real estate, seller, solano county, suisun, suisun city, summer, swim, swimming, travis air force base, vacaville, value, warm
Degrees With the Shortest Savings Path to Homeownership

College students taking specific courses of study have the potential to become homeowners sooner after graduation than others, according to a new report by realtor.com®.
Engineering majors have the most promising prospects, with petroleum engineering majors able to become homeowners in an average 2.6 years—the shortest time of all the degree tracks analyzed by realtor.com. Petroleum engineering majors earn a starting salary of $96,700, according to Payscale.com, which allows for $19,340 savings each year—enough to accumulate a 20 percent down payment on a $250,000 home in roughly two-and-a-half years.
"When it comes to homeownership, degrees in engineering really pay off," says Joe Kirchner, senior economist at realtor.com. "While this analysis leverages averages and assumptions, it shows just how powerful a high starting salary can be when it comes to early homeownership."
Other degrees with short timespans to homeownership include: physician assistant studies (2.9 years); computer science (3.5 years); chemical, computer, mining or nuclear engineering (3.6 years); and electrical engineering (EE), electronics and communications engineering or electrical and computer engineering (ECE) (3.7 years).
On the other hand, homeownership is some years away for education majors—according to the report, education majors average seven years saving for a down payment.


"Our analysis also underscores the importance of consistently saving, especially if you aren't making a high starting salary," Kirchner says. "While seven years may sound like a long time, putting away 20 percent each month could have education professionals in a home by their late 20s or early 30s."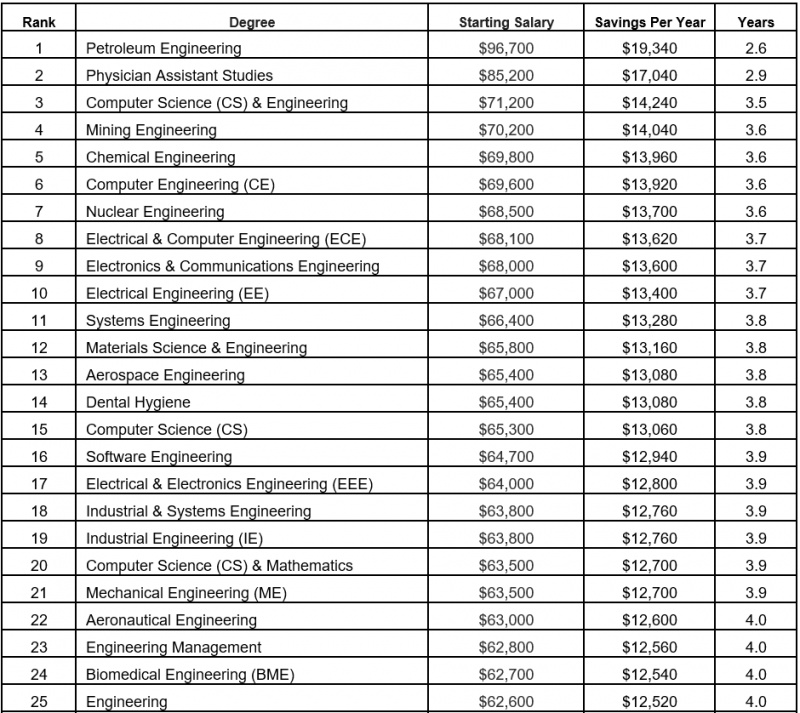 Source: Rismedia
Posted on May 21, 2017 at 8:23 pm
Elizabeth Corvello
Category:

get real (estate), lifestyle
Tagged

bachelors, bachelors degree, bay area, bay area real estate expert, bay area realtor, buyers agent, certification, commute, degree, Degrees With the Shortest Savings Path to Homeownership, diploma, education, fairfield, first home, first time home buyer, green home, home, i-80 corridor, i80, information, Interstate 80, investment, job, knowledgeable, marin county, masters, masters degree, napa, new home, north bay, north vacaville, outskirts, professional, real estate, real estate expert, small home, smart. home, solano, solano county, suisun, team, tiny home, vacaville, vallejo
Which weekend projects have the best return on investment?
Lace up your work boots, weekend warriors—it's time to get busy! If you're looking to improve your home's value or make money back when you resell, you've come to the right place.
You'd be surprised at how much you can boost your ROI just by choosing the right kind of home improvement project. Unlike what you may have heard before, there's no need to go for a full kitchen remodel or an addition when trying to boost your home's value. There are plenty of improvements out there that could return nearly all of the money you put down when you resell—without having to pay a contractor first. So get out your drill, saw, and calculator and get started with one of these projects that you can have on the books in a mere 48 hours or less!
Kick Tired Outdoor Decor to the Curb
As the first thing buyers see when you sell, exterior decor ranks high on any homeowner's list of improvements. In fact, many landscaping projects will return you over 100% of your investment.
Adding a new stone or brick patio, lining a pathway with pavers, or even just buying some brightly-colored planters and trimming the hedges all add significantly to your home's desirability quotient. Even your greenest home repair newbies are well-equipped to handle most landscaping jobs!
Fluff Up Your Attic Insulation
It's easy to get wrapped up in projects that deliver instant results—but buyers will be looking at more than your home's aesthetics. Your property's internal systems, like your plumbing and heating, will all be on the line, too.
Even if you plan to stay in your home for the long haul, there are a number of different updates you can DIY for long-term energy savings on your utility bills. Specifically, many older homes can benefit from attic insulation projects, which you can tackle yourself after learning the ropes.
Improving your attic insulation can net you an energy savings of anywhere from 10 to 50 percent. In older homes, builders often used insulation with an inadequate R-value, or they left attics unconditioned with no insulation at all. Considering that energy-efficient homes tend to have higher property values, particularly in locations where electricity costs are high, upgrading to an R-value of 30 to 60 is definitely a project that gives back—both in terms of finances and through a cozier home!
Give Drafts the Cold Shoulder
A great project to pair with your insulation upgrade is an attic floor sealing update. In fact, many parts of your home can probably benefit from air sealing, which keeps conditioned air from slipping through cracks and gaps in the walls and floors. In the attic, pay particular attention to the gaps around holes for wires and pipes, recessed lights, and your furnace flue or duct chase way.
Make sure to head downstairs and check for cracks that may have formed in your window caulking. Some 40 percent of heating and air conditioning may be lost through a home's windows, so even minor updates here can make a real difference. Be sure to use silicone caulking, which is water resistant and won't shrink as much as acrylic will over time.
If your windows are badly warped, drafty, or show signs of condensation between the glass, it may be time for a full window replacement. You'll probably need to engage a contractor for that—but there are many energy efficient windows available today that can keep your home snugly fit—especially since you won't be worrying about your utility bills.
Front-and-Center Upgrades
Front door replacements have some of the highest ROIs of any home improvement project out there—the overhead is low, since your average steel entry door costs between $200 and $500. But the returns are high. In fact, in some regions, a new front entry door can net over 100 percent of your initial investment!
The beauty of this project lies in how simple it is. No matter your skill level, you can probably wrestle a door off its hinges and install a new one—and it won't take you a whole weekend. A door can easily be dressed up with an eye-catching coat of exterior paint or some flashy hardware. Plus, if you're replacing a hollow-core door, you'll see some energy savings as well, since solid models are much more energy-efficient.
Lighten Up a Little
Anything you can do to brighten up darker rooms will add lots of appeal to your home. In particular, homebuyers have been drawn lately to bright, open interiors that offer plenty of options in the lighting department.
Painting is one of the cheapest ways to get there. At $40 per gallon, you're definitely not going to break the bank with this project. If you think you might put your house on the market soon, go for a neutral tone that will appeal to a wider audience—but don't think you have to stick to just plain old whites and beiges. Many designers now consider light blushes, pale blues, and silvers as part of the neutral palette, and these colors will open up darker interiors as well. That's one way to let in the light—without weighing down your credit card bills!
Source: Coldwellbanker.com/Erin Vaughan/Alexandra Filiaci
Posted on March 9, 2017 at 10:03 pm
Elizabeth Corvello
Category:
get real (estate)
Tagged

appealing, best return, brighten, california, curb appeal, door, fairfield, highest, improving, insulation, investment, paint, projects, real estate, realtor, return, sellers, solano, solano county, solano county professional, spruce, suisun, suisun city, update, updates, updating, upgrade, vacaville, weekend, weekend project, Which weekend projects have the best return on investment, yielding